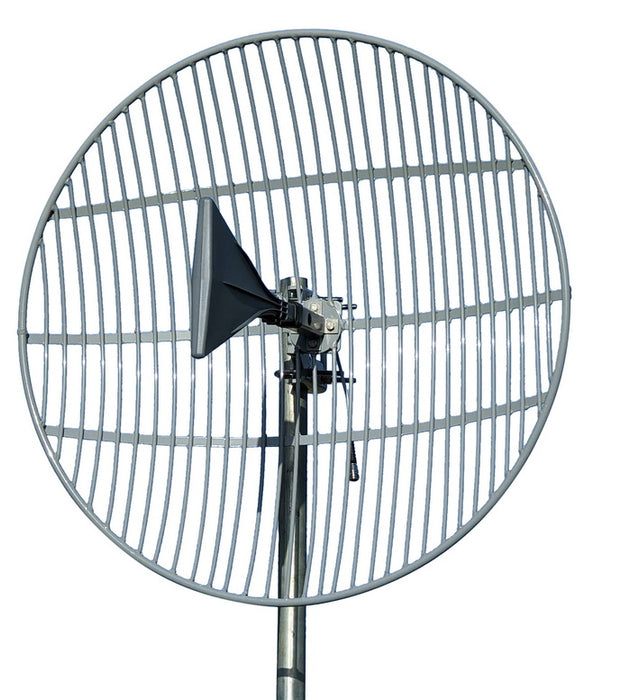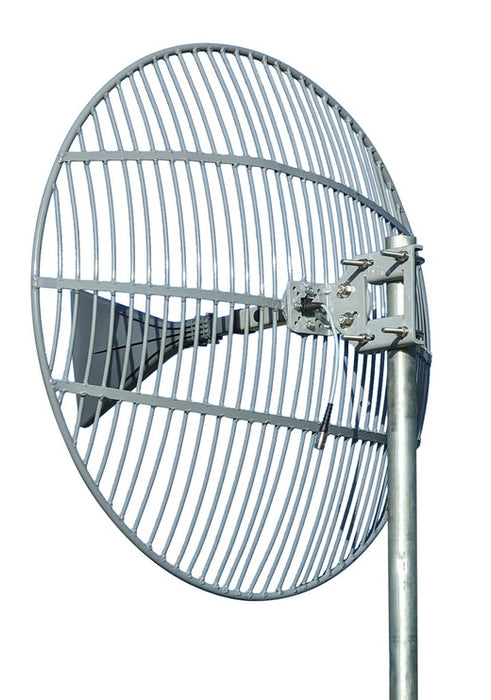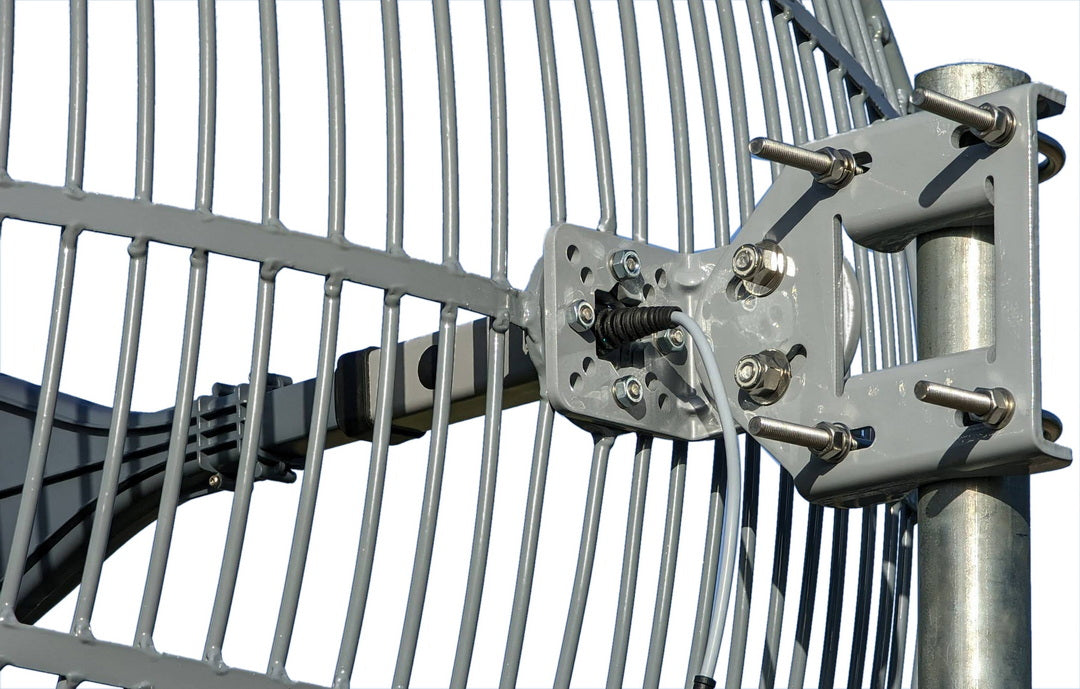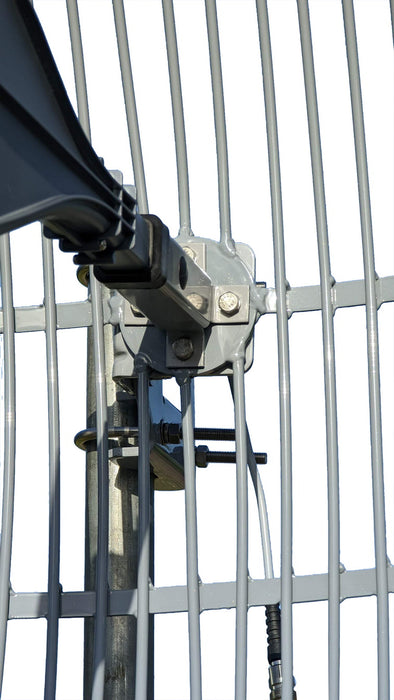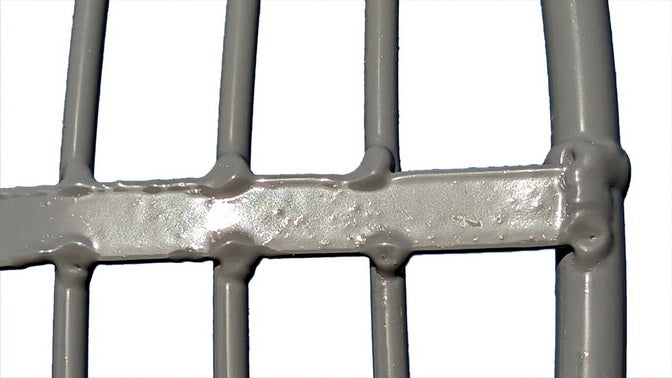 Ultra Wide Band Round Grid Parabolic Dish Professional Grade UWB Outdoor
Round grid 32" diameter, welded aluminum and powder coated in USA. UWB Ultra-wide band design 600 MHz to 6.5 GHz with gain 12dBi at lowest frequency and 26 dBi at highest frequency. Heavy duty high winds version of the popular low-cost model. Features extra strong brackets and 1/4" welded aluminum rod forming the dish. Contact us for a detailed data sheet today. Weight of shipping box is only 13 Lbs.
2G, 3G, 4G. Works on all worldwide cellular bands for voice & data:
LTE/CDMA/GSM/UMTS/AWS. 600Mhz band included.
All WiFi Bands, and new 5G, 600MHz & 3.5GHz spectrum
ISM 900 &1200Mhz, SDR, plus GPS band Jammer
Military, Government, HomeLand Security Bands
Scanner, Narrow Beam Spectrum Search & Energy Harvesting
Sirius-XM (with avail. amplifier) Deep Fringe to Stationary Sats.
Simple install kit with tilt/swivel mast bracket for 1.25 to 2" diameter pipe/mast
Gain+Beamwidth Can Optimized at 600-900 or 4000-6500 MHZ

Light Weight, Easy To Assemble & Install For Home And Office

Heavy-Duty 1 piece reflector, solid and rigid.
Electrical specifications
Frequency range (MHZ) 600 - 6500
Polarization Vertical or Horizontal
Gain(dBi) 15 Low / 21 Mid / 26 High Bands
Half-power beam width(°) Low Band: 20 Horiz, 23 Vert
Half-power beam width(°) Mid Band: 12 Horiz, 15 Vert
Half-power beam width(°) High Band: 7 Horiz, 9 Vert
Front-to-back ratio(dB) ≥20 AVG
Impedance(Ω) 50
VSWR ≤1.6:1 / 1.4:1 avg
Maximum input power(W) 100
Lightning protection DC Ground
Mechanical specifications
Connector N-female
Dimensions (in / mm) 32.5 / 82cm
Dimensions, boxed (in / mm) 35x35x8.5 / 90x90x21.6
Antenna weight (lb / kg) 5.4 / 2.5 w/bracket
Packing weight (lb / kg) 14 / 6.5
Wind loading area (sqr ft / m)
Rated wind velocity (mph / kph) 150 / 240
Wind Load @ Rated Velo. (lb / kg) 150 / 68
Mounting mast diam. (in / mm) 1.5-2.0 / 40-50
Reflector material Welded Aluminum
Reflector Finish: Electrostatic Powder Coat
Radome material ASA Anti UV
Antenna Reflector color Beige-White
Water resistance IPX Weather rated
Operating temperature(℃ / F) -40 to +60 / -40 to +140
You recently viewed
Clear recently viewed