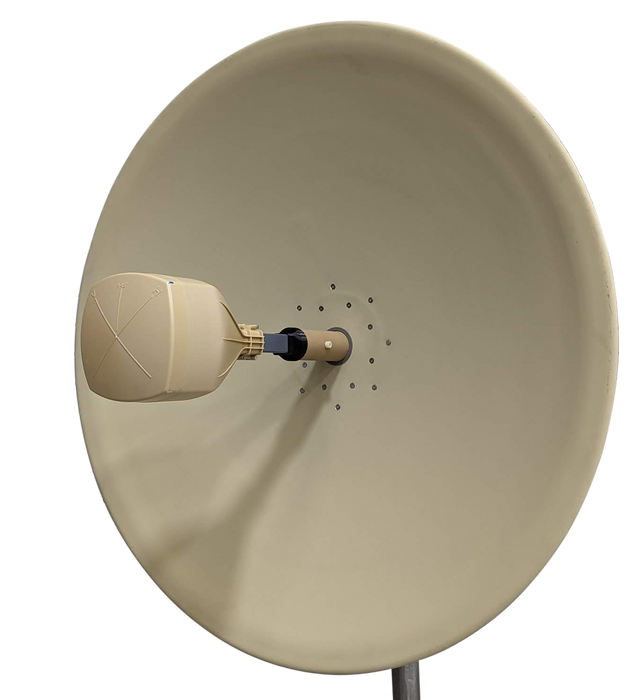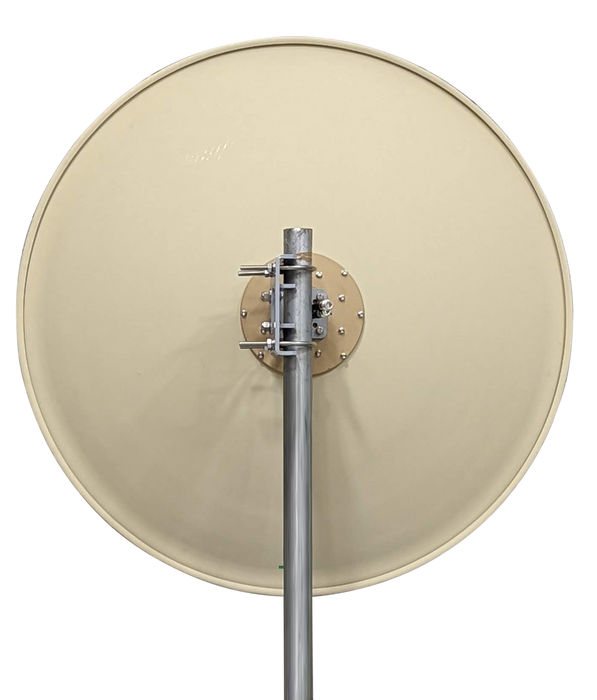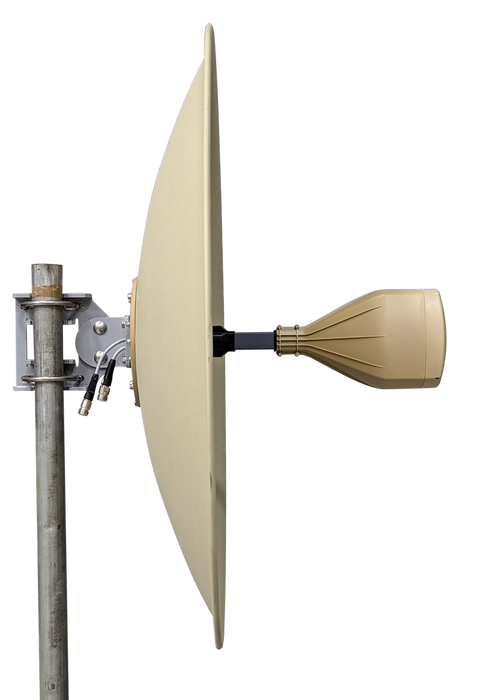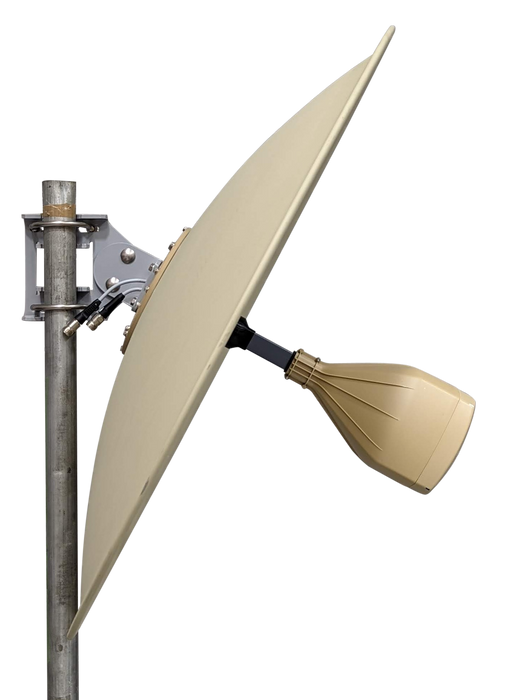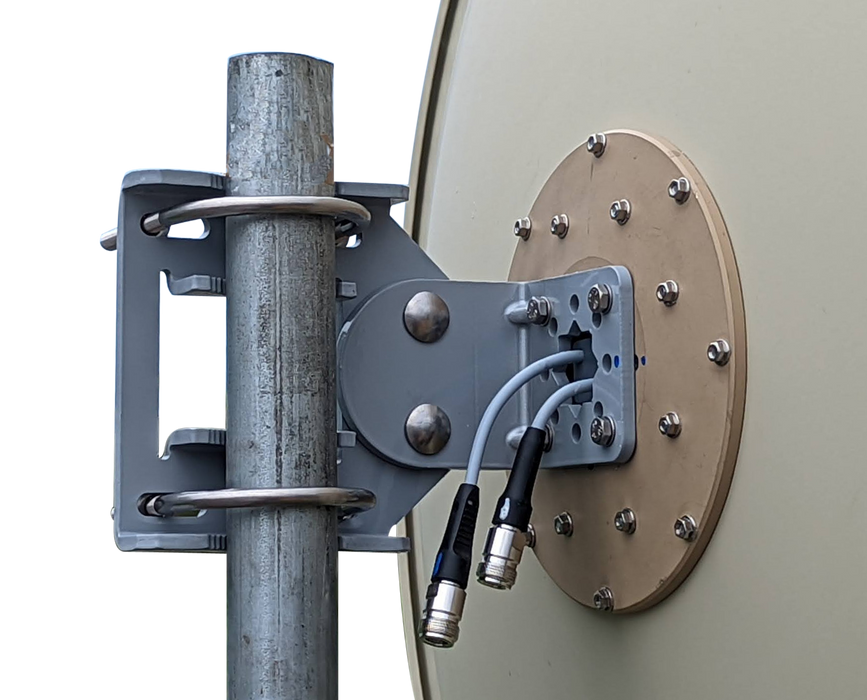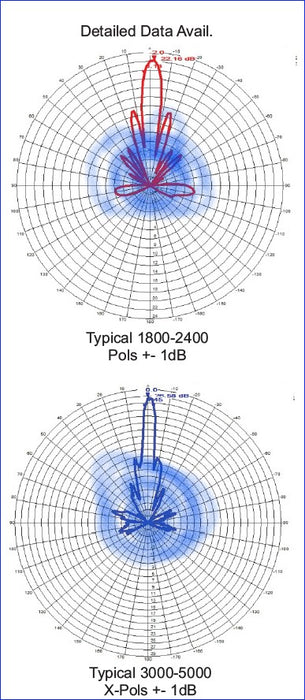 Ultra Wide Band Dual Or Circular Pol UWB Dish Parabolic Solid 3 FT 90cm Antenna
Extremely directional high gain parabolic antenna with a dual polarization feed horn. Ultra Wide band UWB continuous , Instantaneous bandwidth. A first in the industry for an UWB affordable dish antenna. This feed horn can be used as cross-polarization single or dual, as well as single or dual circular polarization using a 90° hybrid coupler! (not included) Mini-Circuits sells good 90° narrow and wide band couplers.
Excellent for terrestrial cellular data links or home user HotSpot modems or WiFi links including the latest 6 and 7Ghz WiFi. Amazing number of uses including all the ham radio bands in this range, 902, 2402, 3456, 5700 and 10.4 GHz!
Spun aluminum parabola all hand made in the USA.  Featuring a tri-patented dual Vivaldi solid aluminum machined construction feed horn. High power capable limited by the power ratings of the .141 (RG-402) internal central feed cables.
This antenna was designed for rugged use featuring a spun aluminum solid dish and extra heavy duty fully CNC machined aluminum hub assembly. Polarization can be changes every 45° by repositioning the feed horn arm in the hub. 
This antenna is already field tested and proven by commercial and military users. Other versions in development or already in use.
Designed and produced  Antenna World, Inc, and W4AWI. It s covered by 3 patents. One of W4AWI and 2 licensed from the US Govt US Navy Space And Warfare Dept.
Filed tested and confirmed 37 dBi 10.4GHz at ARS N4IS.  Signal plots available to qualified requests. Signal plots here obscured to reduce copyright infringement.
Electrical specifications
Frequency range (GHz) 0.60--10.50
Polarization Dual, +45 -45 Degrees
Port Isolation dB AVG -18 <1GHz -23 >1.5GHz
Gain(dBi) 12 Low / 24 Mid / 28 High Bands
Half-power beam width(°) Low Band: 20 Horiz, 23 Vert
Half-power beam width(°) Mid Band: 12 Horiz, 15 Vert
Half-power beam width(°) High Band: 7 Horiz, 9 Vert
Front-to-back ratio(dB) ≥20 AVG
Impedance(Ω) 50
VSWR ≤1.6:1 / 1.4:1 avg
Max. input power(W @GHz) 600@0.5 400@2 280@4 250@6
Lightning protection DC Ground
Mechanical specifications
Connectors N-Type Female X2
Diameter (in / mm) 35 / 89cm
Dimensions, boxed (in / mm) 36x36x8 / 91x91x20
Antenna weight (lb / kg) 9.9 / 4.5
Packing weight (lb / kg) 13 / 5.9
Wind loading area (sqr ft / m)
Rated wind velocity (mph / kph) 140 / 225
Wind Load @ Rated Velo. (lb / kg)
Mounting mast diam. (in / mm) 1-2.5" / 26-65
Reflector material Spun Aluminum 0.050" (1.27mm)
Reflector Finish: Primed+ 2-coat Epoxy
Feed Horn material ASA, Alum, Comp. FG Epoxy
Antenna Color Desert Sand
Water resistance IPX Weather rated
You recently viewed
Clear recently viewed